Leisure time activities in the area
Only in a few minutes by car you can reach different restaurants and taverns. There are also some typically Carinthian taverns nearby called Buschenschenken which offer a variety of different homemade local goodies like the famous "Kärntner Brettljausen".
For those of you who want to be on tour and active during the vacation, our camping site will be the springboard for beautiful hikes, challenging bike tours and interesting adventures related to the woods as well as to the water.
If you just want to relax and enjoy your holiday in a quiet and separated atmosphere, you will be more than welcome to do so at our convenient camping site. Just off the woods and the water originates the perfect vibe to recharge your batteries and to relax your mind and body. Our camping site is also situated directly at the waterside and is the most quiet place to take a break from every day's life. If you are adventurous and just want to have some fun, our camping site is the most exciting springboard to do so. The local area offers varied leisure opportunities like tennis courts, a soccer field and a volleyball court. There is a riding school, a miniature golf course and rental bikes just a few minutes away.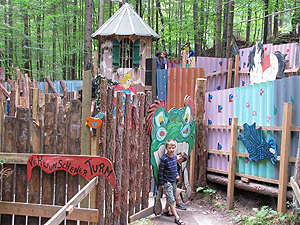 In the sense of "to save the best for last", there is a very attractive adventure area called the Zauberwald within walking distance. It is a place popular for all age groups and includes a huge playground and a special area located in the woods with dwarfs, flying witches, magicians, speaking trees and many more. The adventure playground includes a small castle, tepees, an Arch and a wooden theatre and has its own children's zoo with rabbits, hens, goats, horses, lamas and guinea pigs.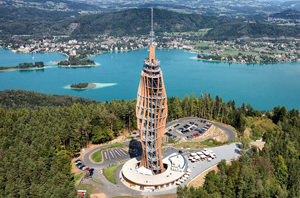 There are also some of the most interesting and famous sights within a few minutes by car: you can visit the Pyramidenkogel, the Wörthersee and many more.
With its 5 courses, 40 exercises and its many trees, the "Waldseilpark Pyramidenkogel" is also worth a visit.